Charter School of Wilmington celebrates 25 years | The Latest from WDEL News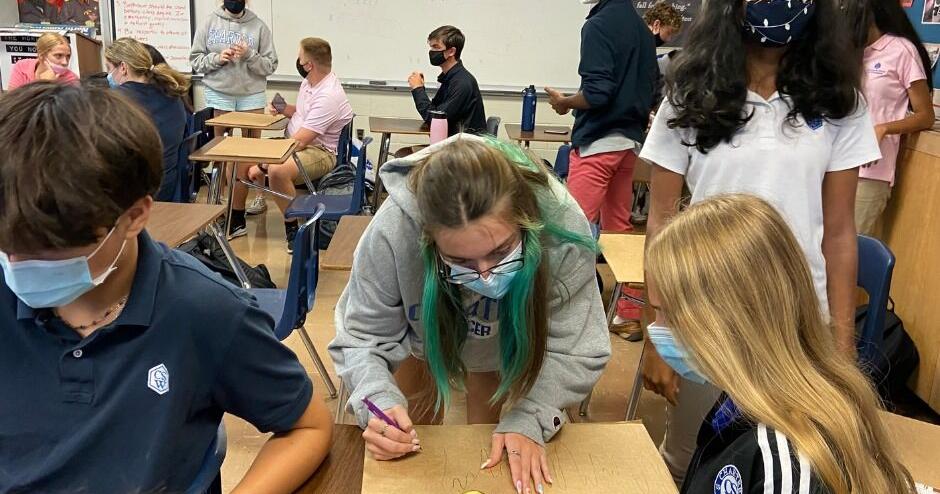 The Charter School of Wilmington, which makes U.S. News & World Report's ranking of the best high schools in America each year, is celebrating 25 years.
Cheryl Potocki who's been a math teacher at the charter school in the Red Clay Consolidated School District practically since it opened, said the school has long been ahead of the curve.
"When the school started, it was somewhat experimental; we have a performing art schools, we have vo-tech schools, but the desire for a STEM school- at that time–I think, unless you were in STEM yourself, not everybody necessarily saw it as a need," she said. "Honestly, as the world has changed, that in so many ways has helped."
Over the years, the school has grown with an enrollment now just under 1,000 students.
"When an organization gets bigger, you have to add staff, you need to look at your programming, are you meeting everybody's needs," she said.
Curriculum has also evolved based on students' wants and needs, and she attributed listening to students as pivotal to the school's success.
"Most of the courses we've added have really been at student requests. Can we have a…calculus class for people who don't want to take AP, but we still want to learn calculus? Yeah we can do that; can you add an SAT prep course? Yeah, we can do that too. Some of the computer programming courses like web page design, that kind of thing…data structures, these are all things that the kids have ultimately asked for," she said. "There's other science electives we've added–oceanography–we have an anatomy and physiology course, an athletic training course–again that was added because the kids requested it."
Potocki called it an "interesting dynamic" and noted the school is always a "work in progress."
"You have to listen to the kids, and sometimes the kids are your primary driver of change–and it needs to be–and sometimes, the adults often we know what's best, well OK we know systematically, maybe, because we've figured out how to make the system work for us, but you need to listen to what the kids want, and sometimes that change even as you go through and do your self-reflection cycle, you have to listen to that. That's not to say that every idea the kids have had–'ok let's go do this.' But you need to think about it, you need to listen, and you need to have a conversation."
WDEL asked Potocki what she thought the next 25 years at CSW would look like. From overhead projectors for graphing calculators to smart boards and from bound books to Chromebooks, said was certain the school would adapt as times change.
"I would hope that as technology changes, we adapt both the curriculum and also teaching methods to it," she said. "There's a lot of interactive software…for each subject area that's taught, there's a lot of online resources that you can incorporate…they really help enhance how you teach." 
She stressed the need for kids to continue to develop critical thinking skills–a theme she said is woven across all departments at CSW. 
"You're trying to get the kids to think–don't just memorize something. Certainly memorization gets you through the beginning–it gets you through your alphabet, gets you through your times tables–but when to apply something, when to use something, when to do something–that's decision-making. Think of all the data you have to analyze, and I don't care what you do for a living, you're always taking in information–you have to do something with it and make decisions. 
Potocki attributed the school's overall success to the students.
"As the students go and they're happy and they're successful, their work goes out into the community and whether it's the different community service work they do, the academic honors they accomplish, or even just as they go on with their life into different universities, and businesses, and so forth, I think that really speaks to it as well."
CSW's new Alumni Association is hosting a 25th anniversary celebration at Wilmington Country Club Friday, November 26, 2021. U.S. Senator Tom Carper will speak at the event; his sons both attended CSW.
They're also collecting items for Stockings of Love to donate to the Wilmington Veterans Affairs (VA) Medical Center in Elsmere.