LAHS students lead virtual Hour of Code for elementary school | Schools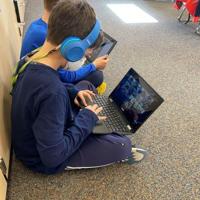 With guidance from Los Altos High School's Computer Engineers of the Next Generation club, fourth- and fifth-graders at Monta Loma Elementary School in Mountain View spent an hour Dec. 1 playing games on their computers while learning to code.
Members of CENG hosted the Hour of Code via Zoom. Los Altos High students formed the club to inspire underrepresented elementary and middle school students to pursue computer science.
Katy Stadler, a senior and co-president of CENG, was among the student volunteers assisting the fourth-graders. She focused primarily on leading students through the Compute It! game, which gives them a set of instructions in code and then requires them to navigate through a series of dots with different colors.
Kyle Stadler, Katy's assistant and brother, helped prepare for the event, setting up the games and providing organizational support. Kyle, a sophomore and member of CENG, was unable to attend the Hour of Code due to a class conflict. He noted that such conflicts are rare, as CENG typically does not take away time from the school day; only the Hour of Code and Hackathon, another CENG-hosted event, occur on school days.
"Most of the standard classes we teach are usually on the weekend or after school," Kyle said. "We can sign up for which ones we want to teach based on our schedules … (and) the teaching is on Zoom."
Stimulating interest
Recalling her own experiences, Katy said computer science and programming can be daunting subjects.
"I thought (teaching computer science) would be cool, because you can help kids understand that they don't have to be a tech-y person to understand computer science," she said. "They can do it no matter what."
Katy said it was also intimidating to see that her computer science class at Los Altos High was filled mostly with boys and only a handful of girls. CENG aims to spark kids' interest early.
"I wanted to get a hands-on view on how the (elementary) girls were learning computer science, and actually impact their education in it," she said. "I initially started out as an article writer and wrote blurbs (for CENG) before I got into teaching, and that was my favorite part – the hands-on teaching part."
Kyle, on the other hand, said he always enjoyed experimenting with the electronics platform Arduino and making do-it-yourself projects. Because he lives in Silicon Valley, Kyle has been exposed to coding and recognizes its importance.
"The more I did it, the more I enjoyed computer programming," he said. "Once Katy joined CENG and I heard about it, I was thinking that since I enjoyed computer programming, I should take a try at this. Once I got into it, I really liked teaching these younger kids and exposing them to computer science, because I know it's really important in the modern day that we live in. … It really makes me happy when the kids I teach finally understand a topic, and that's what keeps me going and enjoying this club."
Role models
Katy said that though she was initially nervous about the Hour of Code due to scheduling conflicts and teaching so many kids, she was happy with how the event turned out.
"When I was closing everything down, kids were typing in the chat, 'Oh, my gosh, that was so fun!' and stuff like that, so I actually feel really good about it," she said. "Our goal was not to drill a bunch of information into their heads, it was just to introduce them to the idea that comp sci can be fun, and if you're interested in it, that's cool."
Monta Loma principal Trisha Lee said her school has enjoyed collaborating with CENG students over the past several years.
"It is wonderful to see our students make connections with high school role models and learn about ways they can continue to get involved with computer engineering," Lee said. "Our students have been given the opportunity to participate in after-school Scratch, Java and Python classes in addition to the Hour of Code event."
Lee said students particularly enjoy engaging in the activities and choosing which games to play. Many of the students will revisit the games after being introduced to them, she added, and some sign up for classes to continue their interest.
For more information on CENG, visit cengclass.org.