Michele M. Bender | Lucky dog counts Thanksgiving blessings | News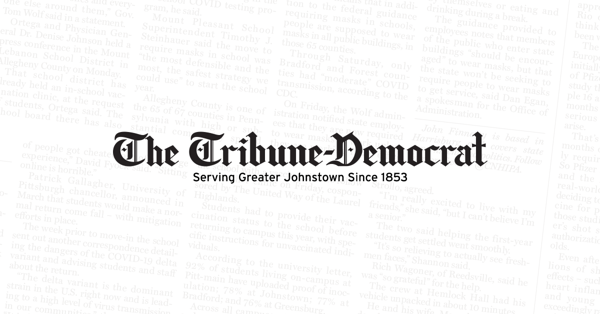 Hello audience! It's me, Licorice, Johnstown's canine columnist.
In '21, I wrote the Xmas column and declared my semi-retirement. Massive miscalculation!
My pet human Joe (the Milk-Bone of my eyes) and I delight in our senior way of life.
My breed (Scottish Terrier) features extended daily life expectancy. I scoff at that seven canine-many years equals just one folks-calendar year … baloney!
Now, age 13, I usually remind Joe why he walked to the kitchen area. My tail nevertheless wags at warp speed. It's not time to hang up the leash but.
Michele's disappearance last winter season alarmed us. In January, we adopted her weblogs covering her struggle with COVID-19. Had I known about her slide in February, I most absolutely would have woofed in.
If you recall, our book, "Ms Geezerette's Journey By Babyboomer Land at the Pace of Wrinkles," posted in 2019, showcased a chapter whole of my columns.
Given that then, people today almost everywhere identify Joe and me.
I battle with modesty, but glow with satisfaction when supporters compliment me.
Michele's reserve incorporated fun memories of the Silver Travel-In Theatre. Mr. (Rick) Rosko, the operator, sold copies at his concession stand. He posted "Book Signing M M Bender" on the marquis and scheduled some appearances.
I had hardly ever attended a drive-in just before. Mid-summer months 2019, an advertisement introduced "Secret Lives of Pets" and "Godzilla" now exhibiting.
"Let's surprise her," I instructed. Surprise, indeed. We picked the wrong night.
We stayed anyhow.
My very first pay a visit to mesmerized me.
People today tailgated in automobiles.
Some girl available me a chunk of her scorching pet. Children patted me, developed-ups rubbed my ears, but the medley of aromas (popcorn, barbecue, perfume) spun my head.
We cherished the pet movie, but "Godzilla" aggravated me so much I barked uncontrollably. We remaining early.
This slide, Joe and I achieved a delightfully blended group at Mount Calvary's St. Francis Day pet blessing. Gatherings such as this and the Roxbury Park Bark leave me stoked and intoxicated by the smorgasbord of "fannies." (Hey! I'm a doggy! Work with me.)
Admirers noticed us and, amid flattering remarks, asked where I'd been.
"Licorice, we skip you."
Michele's "comeback column" stunned us, but stuffed in the blanks. "Joe," I insisted, "we gotta simply call her."
She essential us! Hackers victimized her, harming her notebook. She can raise the Dell alone, and fish the provider off the closet shelf. Alas, the bagged gizmo weighs far too substantially. Plus, how could she handle with her walker or chair?
We drove to her apartment and reunited with poochie-smoochies. My portrait now hangs in her residing area photograph gallery. Perched on her lap in the wheelchair, I felt "queenly" once again!
Sorta off the subject, but worthy of mentioning, what a bummer about Queen Elizabeth! I breathed a sigh of relief when Fergie adopted the Corgis.
Joe and I shipped the laptop computer to Diane, Michele's awesome laptop or computer repair girl.
I rode shotgun.
Following Diane fastened it, we fetched it.
I hopped on the carry chair and snuggled with Michele.
"I'm one particular fortunate puppy," I explained.
"God showers me with blessings. Remember, I wrote final year's Christmas column?
Could I do Thanksgiving day this year?"
"Lic, you bought it!" She hugged me! My tail thumped!
Viewers, celebrate your blessings. Give God a wag!
Treasure your animals as they treasure you.
See ya subsequent time.