PROFILES: Nolan Baker leaving his mark as Owatonna's youngest downtown business owner | Business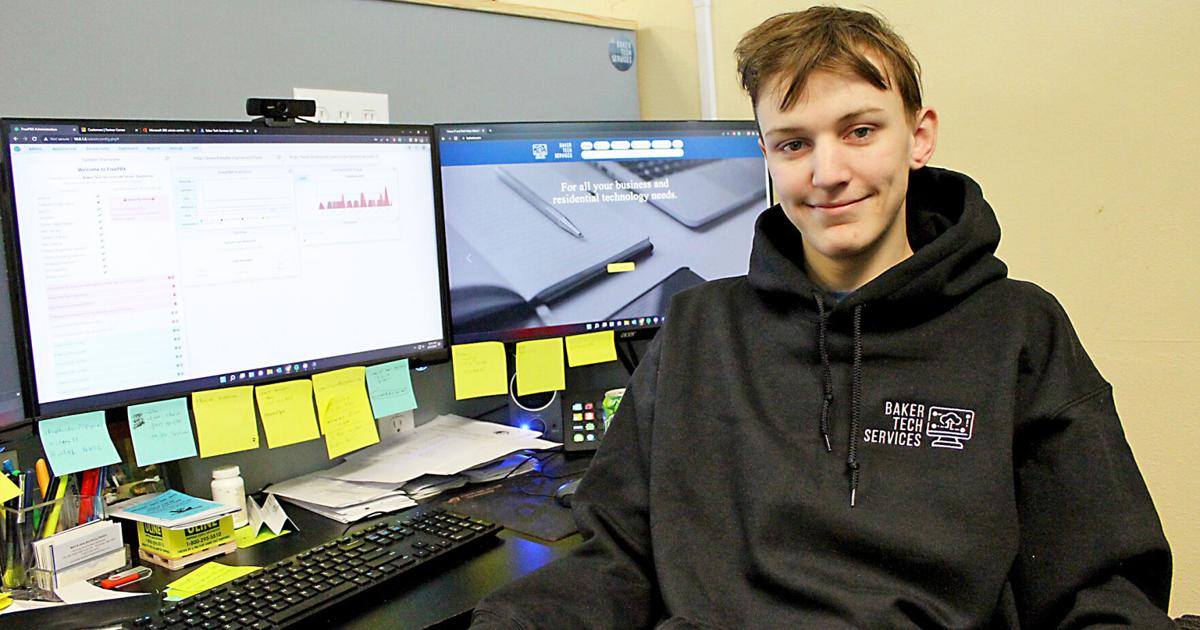 A passion for technology and a keen business sense developed at an early age have been the basis for Nolan Baker's remarkable story of success as a downtown business owner in Owatonna.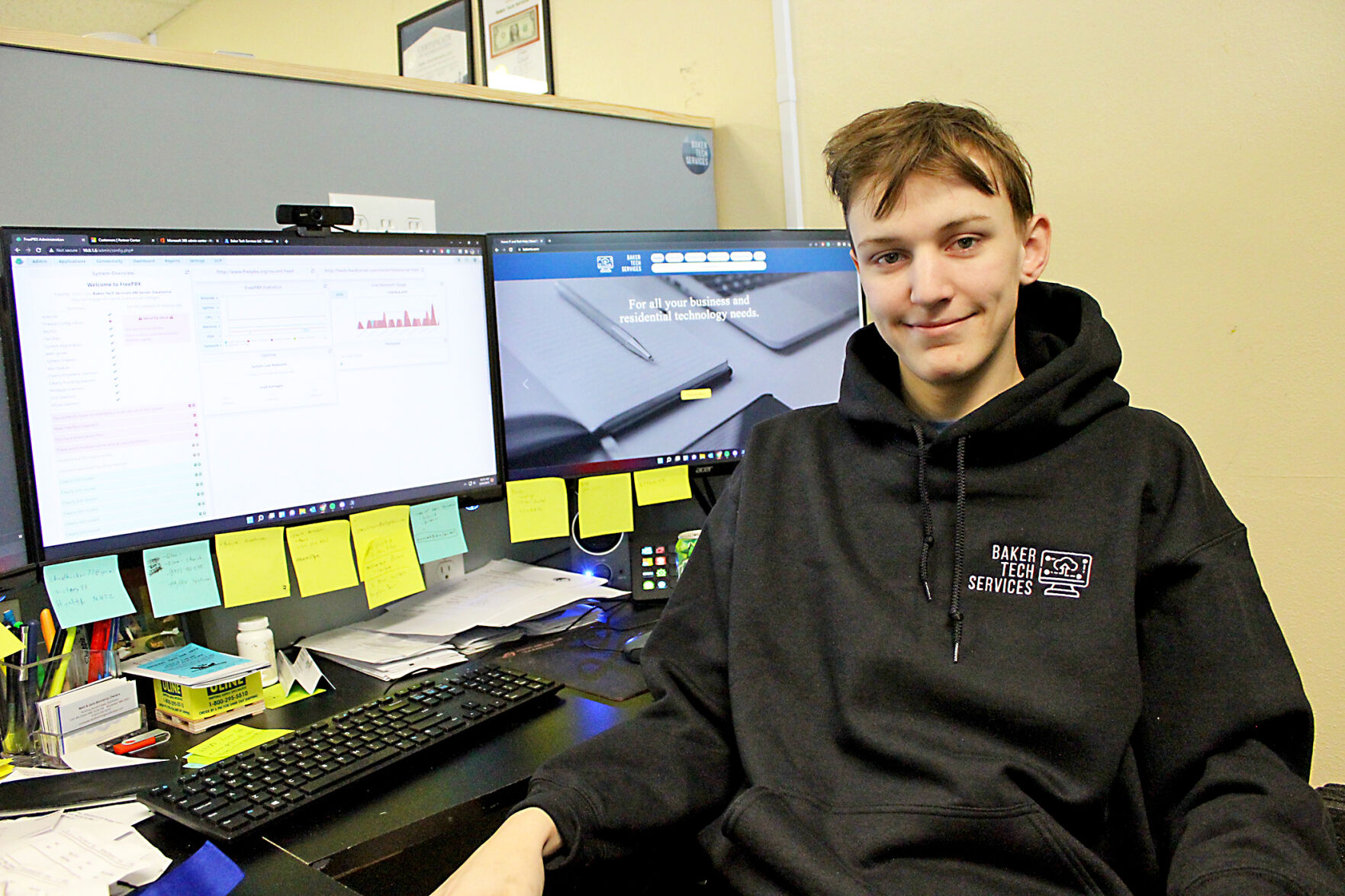 Baker, who is a senior at Owatonna High School this year and just turned 18 years old in November, has already established Baker Tech Services, a thriving IT services company located at 209 W. Bridge Street in downtown Owatonna.
The company provides a wide range of technology services and it is already providing IT assistance and solutions to over 30 area businesses, along with a full line of residential technology services.
Baker was introduced to the world of computers and technology at an early age, and later grew that interest into a popular light display at his family home on the south side of Owatonna during the holiday season.
"My father has done IT at Federated [Insurance] for over 35 years, so I've always been around that crowd, and I've always enjoyed watching whatever they were working on," Baker said. "Just watching them got me into it.
He continued, "My first venture into the tech IT thing was a light display on my house, with the lights dancing along to the music … That was the first time I messed around with programming."
One of his father's friends and co-worker, Steve Frank, had built a similar light display at his house, and that inspired Baker to create a control box for the light display in fourth grade.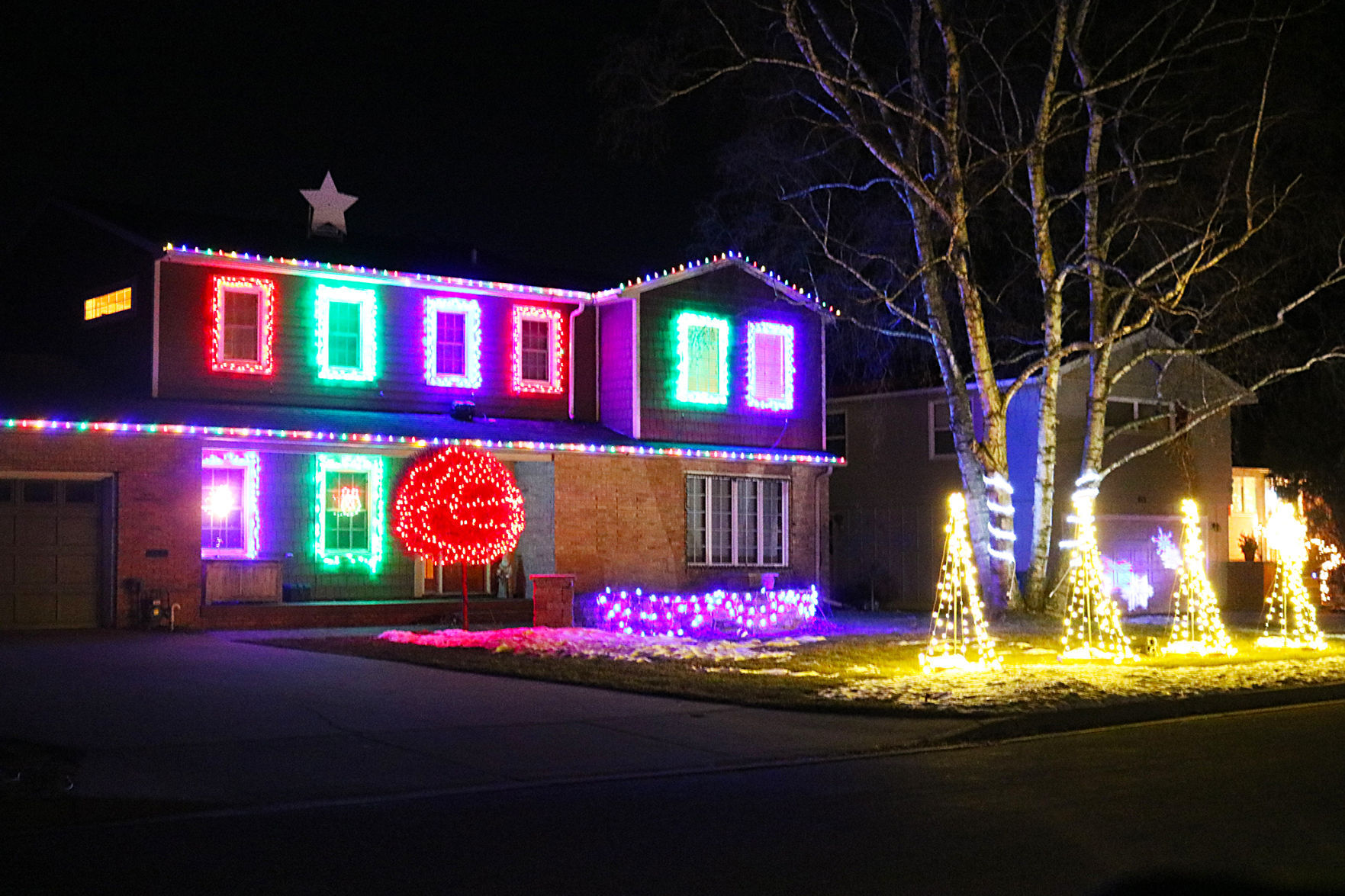 "I remember watching [the light show] and thought it was really cool, so I scrounged up the money and bought the parts to build the box. It sat in my basement for three years while we tried to figured out how to use it, and then in my seventh grade year we had time, so I said let's get it done," Baker said. "I went and grabbed the box, came upstairs and sat at the kitchen counter a few nights trying to get it together, and eventually it did. We have been doing the lights ever since."
Baker later built his own computer in eighth grade, and then connected with his first projects outside of his home.
"I started working at Trinity [Lutheran Church], which is my church, and I assisted them with a couple of projects. They got some new computers and they decided to give 'this kid' a shot to see if I could set it up for them," he said. "Sure enough we got them all set up and configured, and it worked really well."
He continued to do additional work for Trinity, and also added services for two other area churches — all before his sophomore year of high school.
"I sat down and said, this is a real thing, and it is something that could work," Baker said. "I started figuring things out from there and said to myself, 'How do we do it, what do we have to do to get moving, what's my customer base and how do we get more customers?'"
The birth of the business
In addition, an introduction to business class taught by Scott Pierce at Owatonna High School helped inspire Baker into the creation of his business.
"It was because of that class that really showed me what to do, and it was really nice to have someone there to help me out and give me support," Baker said. "After Trinity, a few other local businesses called me, and at that point we kicked it into gear and said let's do it!"
Pierce commented on Baker's success story, saying the young student had the motivation necessary to make his business idea a reality.
"We've had kids here that have started businesses in high school but nothing to the scale of what Nolan has. He is just very intelligent and driven," Pierce said. "He's just got a lot of energy, is so smart with computers and he's been able to take that and turn it into a business."
As Baker looked into his dream of putting together Baker Tech Services, the need for these types of services locally was a driving factor in the process.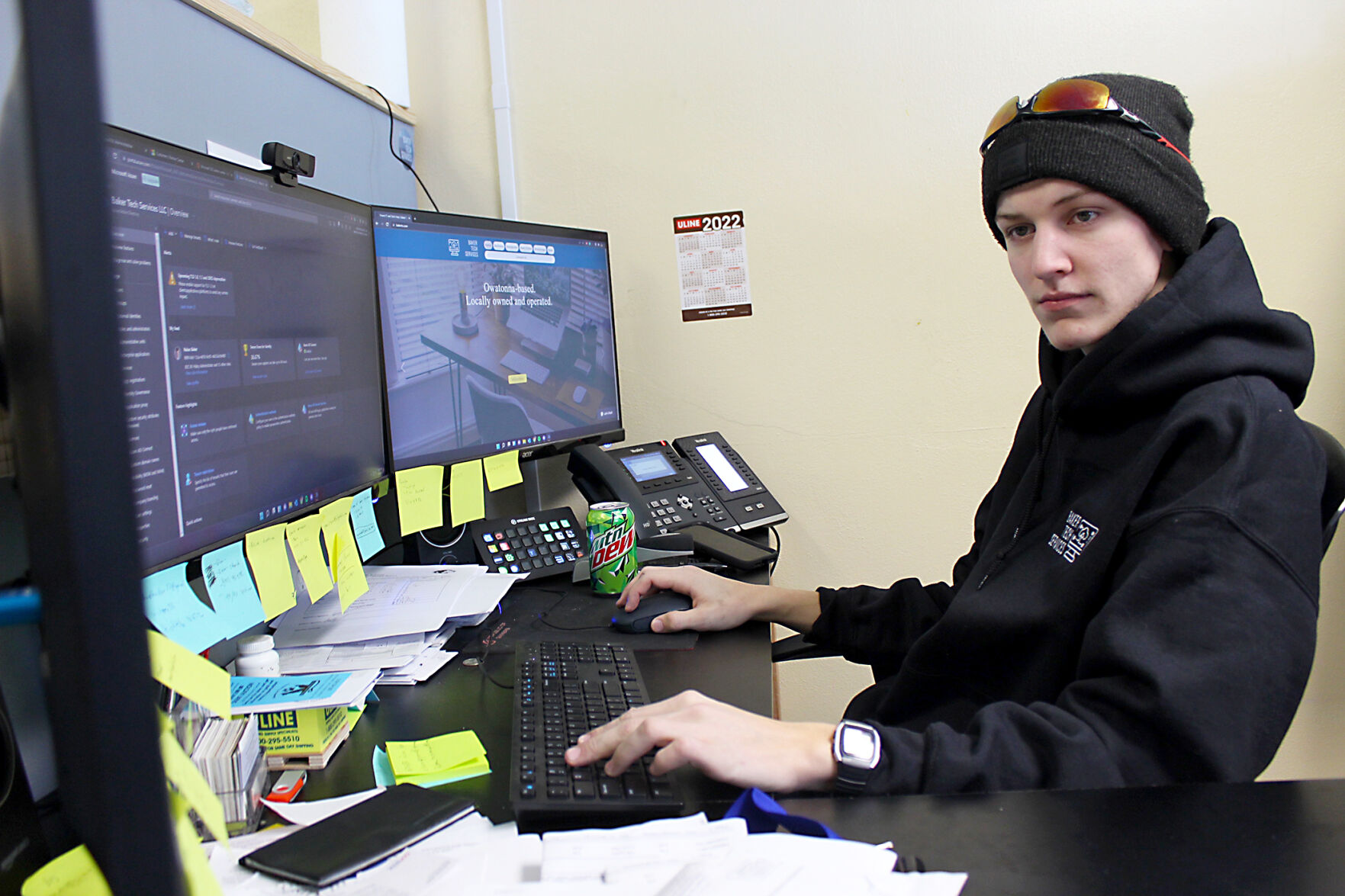 "Why I got into the IT thing was that I saw a need for it here in Owatonna," Baker said. "We really don't have much for local IT. Over the last couple years, we've grown pretty quick."
Pierce added that Baker not only saw a need in his community, but he has been turning out "top notch" service. 
"When people have him come in, he does such a good job word gets around and I think that is the key," Pierce said. "Nolan does such a good job."
Often in the world of business, timing can be everything. Such was the case for the start of Baker's business, as COVID-19 dramatically changed the day-to-day world and created new opportunities in IT.
"As bad as COVID was for some businesses, for us it worked out pretty well," Baker said. "There were a couple churches in town that had to do live streaming and they needed that whole set up. In addition, companies had to work remotely."
He continued, "We had to help some new clients get set up to work from home and that was a big project for us, too. We spent quite a few late nights at the beginning of COVID preparing businesses."
An example of this was Baker Tech Services' work with setting up tech support for large Zoom calls, and setting up a temporary call center to help people connecting to those virtual meetings.
"For us, there isn't rarely a service that we won't do," Baker said. "The shortfall of other IT businesses that I see is they only do your computers or WIFI. I look and say, why would we handle just that when businesses want so much more and there is so much more market to be made."
The various services provided by Baker Tech Services includes servers management, long range wireless, networking, firewalls, routers, WIFI, cameras, security systems, audio video needs, phone systems and and E-Mail.
"The bonus is that when people work with us they are going to get one contractor for everything Internet connected," Baker said. "When we come in, they are not calling separate contractors for internet access, for cameras, for email, computer repair — it's all handled under one house, which is really nice for people. It keeps it simple."
This type of business acumen is something that has driven Baker's early success.
"He really understands things," Pierce said. "Some people just have that innate understanding on how to run a business."
As his business has grown over the past few years, Baker has added staff to his crew at Baker Tech Services. One of his good friends that has become a company expert with phone systems is Jack Ruiter.
"If I have a phone systems that needs to be set up, I kick it over to him," Baker said. "It is really great to have some there who knows what he is doing with that type of thing."
In addition, Baker's crew includes local residents Jacob Seykora, Nick Pilcher and Dylan Meiners.
One of the notable projects that the team has worked on recently was the installation of cameras and other technology at the Steele County Fairgrounds.
"There are cameras all over the fairgrounds now and we came in and did that," Baker said. "We designed the systems, pulled all the fiber optic cable from one end of the fairgrounds to the other and mounted all the antenna poles, cameras and wireless links."
Baker said his entire crew was involved in the week-long project at the fairgrounds.
The initial work done has resulted in other projects at the fairgrounds and has impressed Steele County Free Fair Manager Scott Kozelka and the Fair Board of Directors.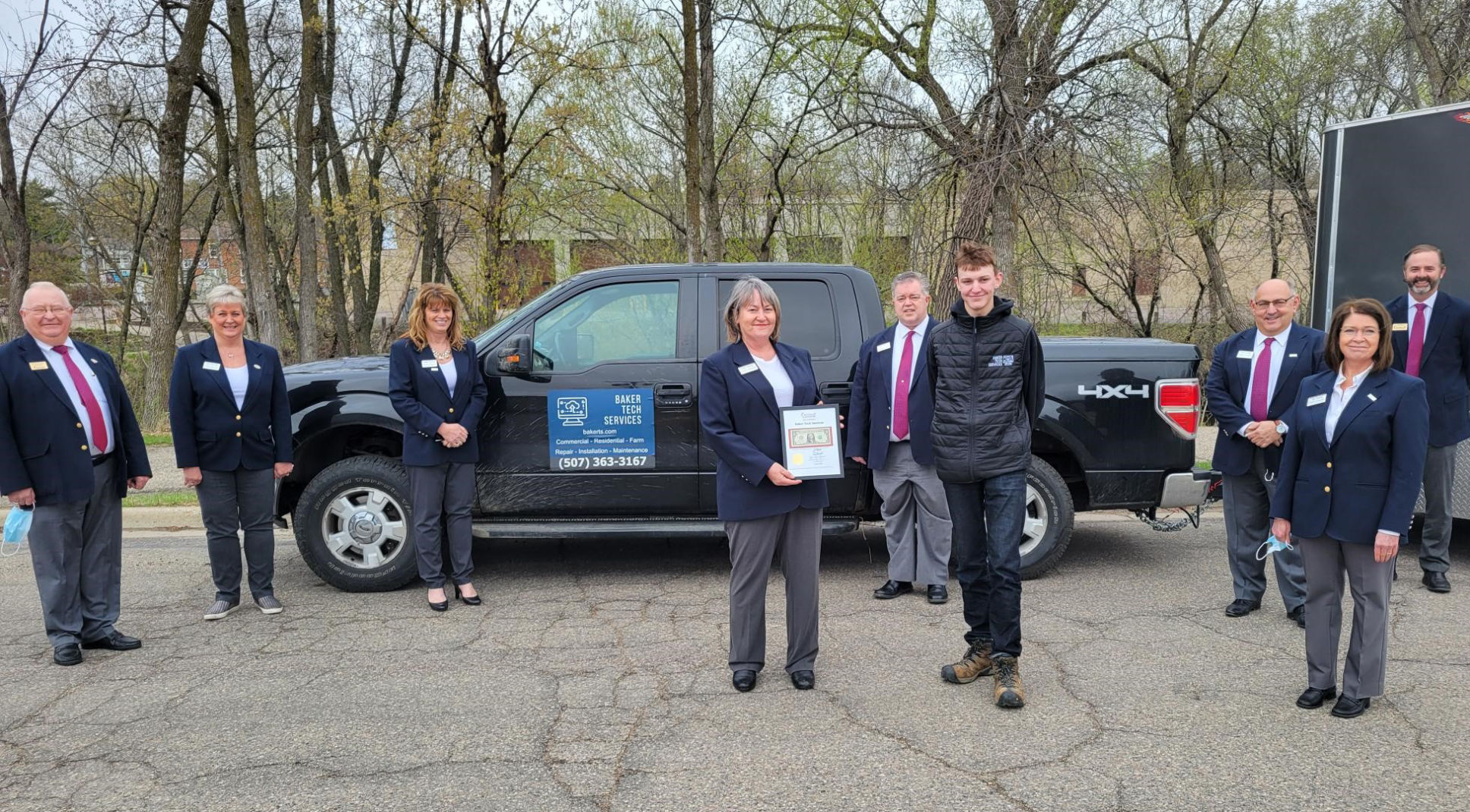 "I actually met him through the Owatonna Chamber of Commerce, and I asked to come and look at some projects we were looking at doing, from updating our phone system to possibly doing some security cameras throughout the fairgrounds," Kozelka said. "He came up here and gave me an idea, and I asked him if he would be interested in doing a presentation to our full board. Just to show them how the systems would work, he rented a boom truck and put antennas on top of our grandstand, so when he did his presentation, he was actually showing our board of directors how the cameras worked with live footage on things going on at the fairgrounds."
Kozelka said Baker, along with Ruiter, impressed the 17-member board, leaving them in awe at the two teen boys. The presentation quickly dispelled any concerns about the relative young age of Baker and his crew.
"Since then, he has done tons of stuff around here for us," Kozelka said. "He is almost part of the team here. Our directors and our office staff here, say we need to check with the 'boys', meaning Nolan and Jack, to see how to fix something or get something done now."
Kozelka went on to say how amazing it is to see "young kids" develop such a passion for the world of sales and business.
"Those are the kind of kids you want to give a chance," Kozelka said.
Baker said the "age" question is sometimes asked when working with clients. Fortunately, the company's reputation and being a hometown kid has helped remove some of those concerns.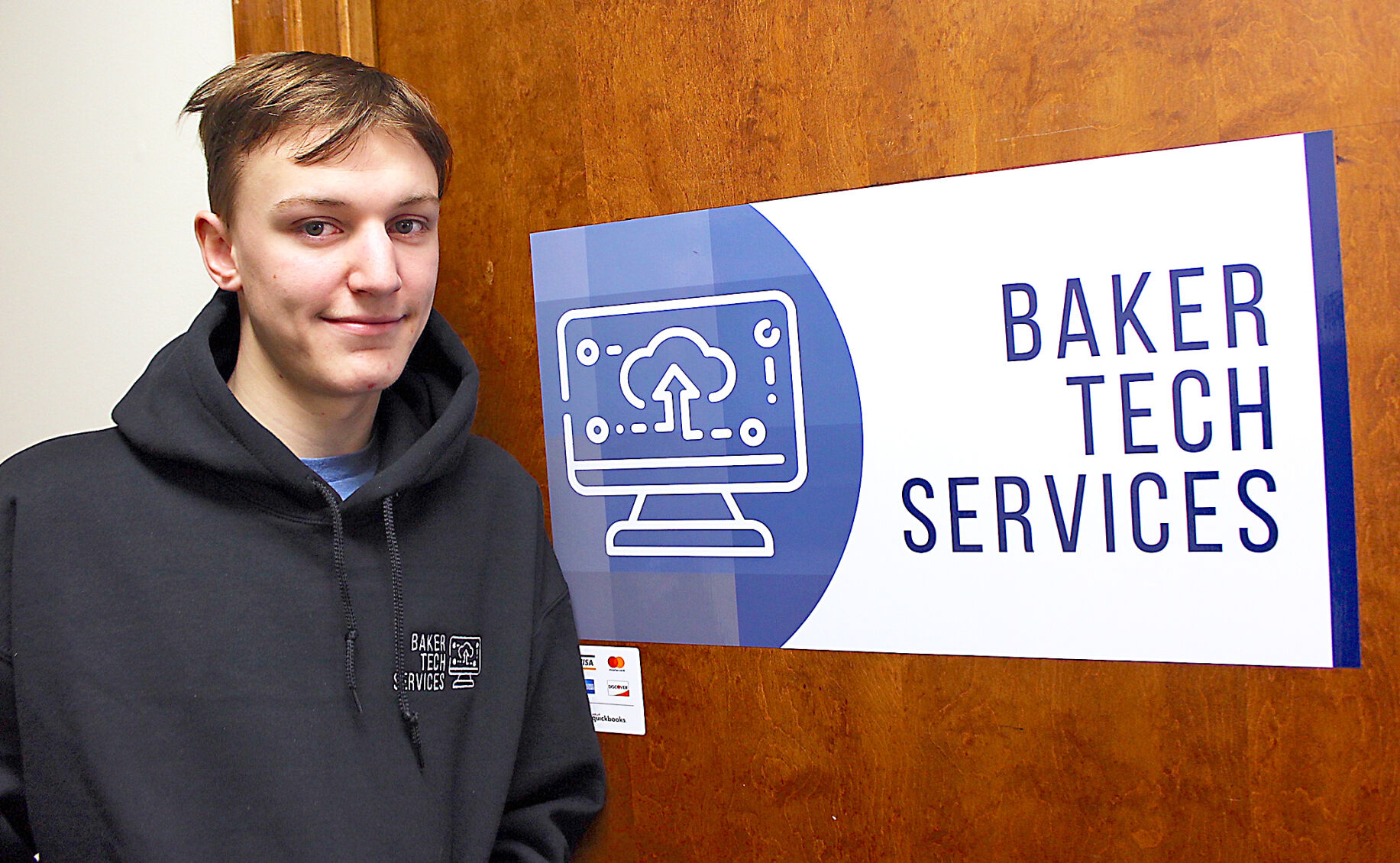 "I've walked into places and we sit down at the first initial client meeting and I go over what I think they want and what they have now. They look at it and at the end of the meeting and they have to ask, 'How old are you?'" Baker said. "We tell them, and then their response is 'You seem to know what you are talking about, so let's give you a shot.' The nice thing is that I've never had someone say no to me because of my age."
Amy Swain, who runs the Amy Swain Hearing Center in Owatonna, added her insight into working with the youthful crew at Baker Tech Services.
"Yes, I had some hesitation, but when [Nolan] first came to my office he was so confident and truly seemed to understand my whole system," Swain said. "Then he went over to my new Rochester location where the office space was being built out. There were three men from Benike Construction in the office at the time. They saw him come into the office and didn't say anything at first. Then when Nolan started telling them what needed to be done for the computer system they were really listening. When Nolan left, they looked at each other and commented on how much Nolan knew. They were impressed, and so was I."
Swain found out about Baker Tech Services through an online search and has been pleased with the work and service provided.
"My hearing aid clinic has four locations, and I needed advice on how to be able to share patient files from one location to the next," Swain said. "Nolan helped me in putting in a server that would allow me to do just that. He had the insight needed to make sure everything was wired in properly. One of the best things he did was to customize my computers."
Another growing portion of his business is technology provided to agriculture. As the farming business has benefited from the use of computers and technology, the need for IT services on farms has grown, such as monitors and cameras placed in grain bins.
"These things are connected to the internet and you have to figure out a way to get your grain bin connected to the monitors," Baker said. "Normally the grain bins are out in the middle of nowhere, so we create wireless links between the grain bin and their home so they can see what is going on out there."
The company also provides complete services for residential customers who may need assistance in setting up home computers, printers, phone systems, televisions, security systems or entertainment systems. In particular, older customers appreciate having a technology resource in the community.
"The greatest generation may not have children or grandchildren in town to help them out with their computer or help them set up their new iPhone," Baker said. "What people really like is that if they don't have family in town, they still have a place to go to get things set up correctly.
Baker continued, "The bonus is that it is not them talking on the phone to someone and trying to figure out what button to click. We go to their house or they stop in at the office, and we help them get set up. It makes it some much easier for them and we can show them how do it or we can write them a little manual that shows them how to text, email someone or what you have to do to turn your TV on."
The entrepreneurial spirit seems to run in the Baker family as Nolan's grandfather, Bob Baker, ran a wood floor refinishing business for many years and his cousin runs a business in Lakeville.
The son of Rod and Amy Baker, Nolan is one of four children in a family that includes older siblings Payton Baker, of Eau Claire, and Landyn Baker, of Kansas City, and younger sister Erin Baker.
Baker's shop is currently located in downtown Owatonna and offers about 1,200 feet of office and storage space. As his business grows, he is looking to possibly build a new location in the future that would include more space for equipment storage and workshop space to facilitate custom manufacturing of things like mounts for monitors, antennas and cameras.
He intends to stay in the area and build upon the business he has created here.
"It is really nice to be able to work with people in town, talk with local business owners and be a local business owner," Baker said.
The local touch is a trademark of Baker Tech Services, and it provides clients with a chance to stay local with its IT service needs and not have to deal with a call center miles away.
"I think our clients say, 'Why would I bring in someone from the outside when I can bring in a local person to do the same thing at the same price.' We're a local business and not 100 miles away. We are just down the road from a lot of our clients," Baker said.
Baker is definitely one of Owatonna's up and coming business talents, according to Kozelka.
"I think the future is bright for him. He's always coming up with new ideas and he's doing it the right way. He's networking, and as part of the Owatonna Chamber of Commerce that allows him to network a bit more and allows him to tell them about what he does," Kozelka said. "He has knowledge, too, from security systems to different equipment for things like weather alerts and cameras on our midway. He and his crew are amazing kids, and I can only wish them the best as they go forward."