Reader's Choice 2021 Winners | News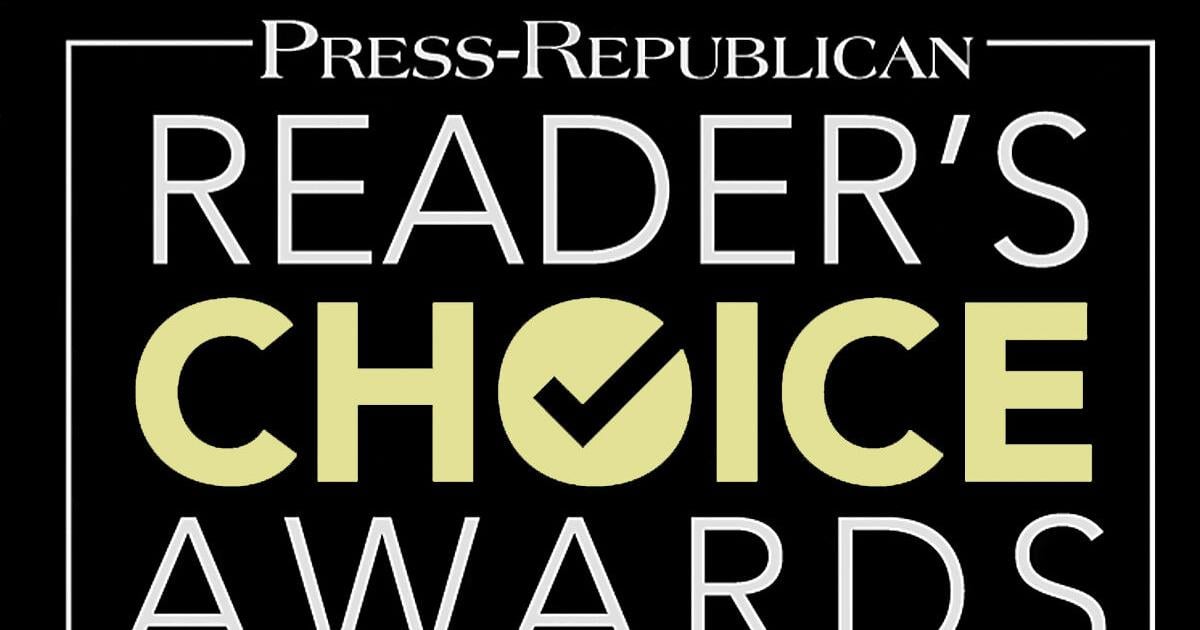 There's nothing like good service. Our lives are made easier and more pleasant when assistance comes with a smile, that phone call is returned promptly and that serving of lasagna is delivered piping hot. Premier service and quality products are no accident — they exist when the proprietors of a business take pride in what they do and go the extra mile because they, and their employees, truly care.
This year's Reader's Choice Awards winners reflect those qualities and more. Our readers have spoken, and we've compiled the results to determine the winners in dozens of categories. We at the Press-Republican congratulate the winners and thank the readers who weighed in.
If you're unfamiliar with some of these top-rated enterprises, consider giving them a try. After all, they've received their customers' seal of approval, and there's no better recommendation than that.
DINING
All-Around Restaurant
Anthony's
Appetizers
Twisted Carrot
Asian Cuisine
Himalaya Restaurant
Bakery
Rulf's
Barbeque
Smoke Signals
Beer Selection
Valcour Brewing
Breakfast
Campus Corner
Catering
Aleka's
Coffee Shop
Koffee Kat
Dessert
Iris's
Family Restaurant
Pizza Palace
Fast Food
Pizza Bono
Fine Dining
Anthony's
Happy Hour
Sip Restaurant
Home Cooking
Arnie's
Ice cream/ Frozen Yogurt
Harrigan's (Brainardsville Location)
Italian Cuisine
Arnie's
Mexican Cuisine
Lomeli's
Mexican Restaurant
Michigans
McSweeney's Red Hots
Pizza Delivery / Take-Out
Pizza Palace
Pizzeria
Pizza Palace
Salad
Butcher Block
Seafood
Mainely Lobster
Sports Bar
Buster's
Sub/
Sandwich Shop
Zuke's
Vegetarian
Himalaya Restaurant
Wine Selection
Gioiosa's
Winery/Brewery
Ausable Brewing
Wings
Pasquale's
GOODS & SERVICES
Accountant
Sarah Chase
Auto Body Shop
G&G Auto
Auto Repair Service
G&G Auto
Bank
Dannemora Federal Credit Union
Barber Shop
Plaza Barber Shop
Computer Repair
Roy Meachum, Former Geek Squad
Construction Company
B & E Development
Credit Union
Dannemora Federal Credit Union
Day Spa
Stoneworks Massage and Skincare
Dental Practice
Plattsburgh Family Dentistry
Dentist
Doctor Martha Breyette
Dry Cleaners
O'Neill's Laundry
Electrical Service
ACE Electric
Electrical Service/Contractor
ACE Electric
Employment Agency
Coryer Staffing
Fitness Center
Leah Grace Fitness
Florist
Plattsburgh Flower Market
Fuel Oil/Kerosene/Propane
Gordon Oil Co
Funeral Home
Brown Funeral Home
Golf Course
Harmony
Hair Salon
Amazing Hair Care
Hearing Aids
Plattsburgh Hearing
Heating /AC Service
Northern Repair & Design
Insurance Agency
Jabaut Insurance
Insurance Agent
Blue Line Insurance Agency, Inc.
Kennel
Covey's K-9's
Doggy Daycare
Landscaping Services
Hart's Lawn Care
Lawn Care
Hart's Lawn Care
Massage Therapist
Erin Soule
Mortgages
Dannemora Federal Credit Union
Nail Salon
T-Nails
Nursery
Pray's Farmers Market
Nursing Home
Pine Harbour
Pet Grooming
Good Karma Dog Grooming
Pools / Spas
Lake Champlain Pools & Spa
Real Estate Agency
RE/MAX North Country
Recycling Center
Northern Cakes Redemption Center
Rental Store
Booth Rentals & Property Management
Retirement Facility
Pine Harbour Assisted Living
Senior Living Facility
Pine Harbour Assisted Living
Snow Removal
Freedom Fence, Co.
Tanning Salon
BeauSoleil Tanning
Theatre Company
Adirondack Regional Theatre
Travel Agency
O'Driscoll's Travel Agency
Veterinarian
Plattsburgh Animal Hospital
SHOPPING
ATV Dealer
Roberts Sports
Auto Parts and Supplies
Parker Chevrolet
Automotive Dealership (New Vehicle)
Della Honda
Automotive Dealership (Used Vehicle)
Parker Chevrolet, Inc
Book Store
Cornerstone Bookshop
Consignment Shop
A Beautiful Mess
Drug Store
Maggy's Pharmacy
Grocery Store
Hannaford
Hardware Store
Windover's
Jewelry Store
Payson's
Liquor Store
Liquor & Wine Warehouse
Meat Market
Lashway's
Nursery / Garden
Pray's Farmers Market
Orchard
Rulf's
Place to Buy a Mattress
America's Mattress
Place to Buy Appliances
Ray's Appliance
Place to Buy Furniture
Ashley's Furniture Home Store
Place to Buy Produce
Pray's Farmers Market
Power Sports/ATV/Motorcycles
Roberts Sports
Thrift Store
Dress Code
Tire Dealer
G&G Tire
Women's Clothing
Dress Code